Suparerk Auychai
Thailand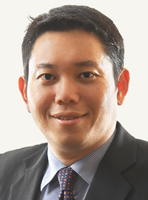 Allen & Overy LLP
22nd Floor Sindhorn Tower 3
130-132 Wireless Road
Lumpini, Bangkok
Tel: +662 223 7600
Fax: +66 2 263 7699
Email: suparerk.auychai@allenovery.com
Web: www.allenovery.com
Suparerk Auychai is a partner specialising in mergers and acquisitions, capital markets, corporate finance and securities-related law as well as privatisations, company law, commercial law and petroleum and petrochemical projects. Suparerk has substantial experience advising on numerous high profile M&A and both debt and equity capital market transactions. He has experience in a wide range of industries especially banking, insurance, telecommunications and oil and gas.
Professional Qualifications:
Admitted as lawyer, Thailand, 1992
Academic Qualifications:
LLB (Hons), Chulalongkorn University, 1990
LLM, University of Michigan, Ann Arbor, 1993
LLM, International Legal Studies, New York University School Of Law, 1994
Recognised as a leading adviser on M&A and other corporate transactions we are able to combine exceptional transactional skills with specialist expertise including antitrust, employment and benefits, environmental, intellectual property and tax. This enables us to handle the numerous issues that can arise in a single corporate transaction. We have an exceptional track record in every sector and particular strengths in highly regulated industries.
Allen & Overy is a truly global adviser and we boast an enviable geographic footprint. Our corporate team spans all of our offices and works seamlessly with a global community of relationship law firms giving us access to a further 118 countries. This platform provides our clients with the confidence that they will receive the highest quality advice in both their domestic markets and as they expand into new territories.
Cross-border work is where we excel and the majority of our transactions have a multi-jurisdictional focus. Strong teamwork and efficient working practices and uniform approaches enable us to manage cross-border deals effectively and seamlessly.
We'll do that by staying one step ahead and by constantly challenging ourselves to bring new and original ways of thinking to the most complex legal challenges our clients face.
Over the past year we have worked with some of the world's most sophisticated businesses on market-leading transactions that have changed their industries. This includes, advising on the largest oil refinery project in Vietnam (Nghi Son) and the joint venture between H.C. Starck and Vietnam's largest private sector company, Masan Group; the ground-breaking creation of Abu Dhabi's first Financial Free Zone, the Abu Dhabi Global Market; and representing Novartis in its successful patent battle with MedImmune over Novartis's blockbuster drug Lucentis – to name just a few achievements.
We are able to build on the foundations of our long heritage to attract the most talented people and develop the high-performance culture necessary to innovate and change the face of business.
Our commitment to help our clients deliver their global strategies has seen us build a truly global network now spanning 46 offices in 32 countries. We have also developed strong ties with relationship law firms in more than 100 countries where we do not have a presence.
This network has allowed us to become one of the largest and most connected law firms in our peer group with a global reach and local depth that is simply unrivalled.
So when we talk about global coverage, we're not just talking about having offices in some important cities around the world. We mean being able to combine our international resources and sector expertise to work on cross-border transactions directly in the markets and regions important to our clients.
"Suparerk Auychai frequently leads the team in major transactions, recently representing Bank of Tokyo-Mitsubishi UFJ in its USD5.75 billion VTO to acquire Bank of Ayudhya. Interviewees were happy with his "quick, commercial responses," noting that "he gives practical advice, supported by logical arguments and legal authority." Sources also described him as proactive and versatile. "