Sharon C. Geraghty
Canada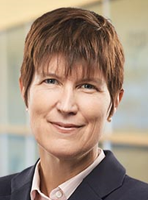 Torys LLP
79 Wellington St. W., 30th Floor
Box 270, TD South Tower
Toronto, Ontario, M5K 1N2
Tel: 416 865 8138
Fax: 416 865 7380
Email: sgeraghty@torys.com
Web: www.torys.com
Sharon Geraghty is a leading practitioner in the areas of mergers and acquisitions, corporate governance and securities law. She has led domestic and cross-border acquisitions, takeover bids and amalgamations in both public and private markets. Sharon regularly acts for multinational corporations in a wide range of industries. Her clients include two of Canada's leading financial institutions, Canada's largest stock exchange and one of Canada's largest communications and media companies. Sharon also advises companies, directors and shareholders on corporate governance and securities compliance matters.
As trusted advisers to our best-in-class clients, we have an unsurpassed record of success. The team's creativity, business and capital markets knowledge, and strategic counsel set it apart and consistently place it in the centre of the field's largest transactions and proceedings.
Torys LLP is a respected international business law firm with a reputation for quality, innovation and teamwork. Our experience, our collaborative practice style, and the insight and imagination we bring to our work have made us our clients' choice for their largest and most complex transactions as well as for general matters in which strategic advice is key.
We believe that clients should respect, trust and like their legal counsel. Our clients tend to be deeply loyal, enjoying in return Torys' exceptional loyalty and value, and enduring professional and personal bonds.
"Sharon Geraghty "is a no-nonsense lawyer – she zeroes in on the important issues and gets deals done." She acted for Endo Health Solutions on its CAD2.7 billion acquisition of Paladin Labs to create Endo International."