Sébastien Prat
France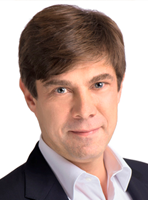 Bredin Prat
130 Rue du Faubourg Saint-Honoré
Paris
France
Tel: +33 1 53 77 65 21
Fax: +33 1 4289 1073
Email: sebastienprat@bredinprat.com
Web: www.bredinprat.fr
Sébastien Prat has been a partner of the firm since 2001 and is a member of the corporate team. He specialises in mergers and acquisitions, private equity and securities law. His practice also includes advising corporate clients and their directors in connection with litigation matters.
He has written several articles on corporate law and also lectures on that subject at the University of Paris II Panthéon-Assas.
He was admitted to the Paris Bar in 1992 and is a graduate of the University of Paris II Panthéon-Assas (DEA in business law and tax, 1988) and the University of Paris V Descartes (Docteur d'Etat in law 1991).

Corporate transactional work is a key element of Bredin Prat's activity. Half of the firm's partners are specialized in this field, making up one of the largest teams on the French market. In all, more than fifty lawyers advise French and international companies of all sizes in their investment, growth and restructuring strategies.
The corporate team's practice covers M&A, including public takeovers and privatisations, as well as capital markets and private equity.
Corporate governance is another of the team's fields of expertise. The corporate lawyers regularly advise large French companies on governance issues as well as on matters concerning the regulation of listed companies.
Bredin Prat is a leading law firm which is highly reputed in its selected practice areas: Corporate and M&A, Securities Law, Litigation and International Arbitration, Tax, Competition and European Law, Banking and Financing, Restructuring and Insolvency, Employment and Public Law.
Founded in 1966, the firm was first renowned for its expertise in litigation and arbitration, and then, in the 1980s, began to expand its corporate law practice, a field in which it is now an undisputed leader. This dual specialization enables the firm to assist its clients of all nationalities on a broad range of transactions and litigation matters.
With now 140 lawyers in Paris and Brussels, Bredin Prat has successfully grown while at the same time respecting the firm's culture and remaining committed to the highest standards of excellence.
At a worldwide level, Bredin Prat assists its clients on cross-border matters by working in integrated teams with lawyers from the top firms in each jurisdiction: the Best Friends.
In addition to being "reliable, available and business-driven," Sébastien Prat is described as "charismatic, excellent for legal and regulatory matters and also in negotiations." He assists clients with matters related to M&A deals, private equity transactions and capital markets, and also handles related contentious matters. ""