Samer Eido
Qatar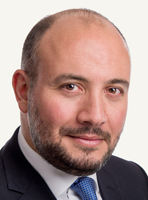 Allen & Overy LLP
23rd Floor, Tornado Tower
Al Funduq Street, PO Box 24205
Doha, Qatar
Tel: +974 4 419 4302
Fax: +974 4419 4599
Email: samer.eido@allenovery.com
Web: www.allenovery.com
Samer is the Managing Partner of Allen & Overy's office in Doha. He specialises in banking, finance and capital markets and has a broad experience in both conventional and Islamic finance with a focus on general corporate lending, leveraged and acquisition finance, real estate finance and debt restructuring. He regularly acts for both lenders and borrowers on domestic and cross-border transactions. His expertise in capital markets includes advising arrangers, underwriters and issuers on debt and on equity issuances. He also regularly advises local and international financial institutions and regulatory bodies on financial markets regulatory matters. Samer has been based in Doha for over nine years. He is fluent in English, Arabic and French.

We advise across the broad spectrum of corporate work including public takeovers, private M&A, ECM, complex joint ventures, disposals and corporate restructurings, as well as general commercial, antitrust and corporate governance issues.
Recognised as a leading adviser on M&A and other corporate transactions we are able to combine exceptional transactional skills with specialist expertise including antitrust, employment and benefits, environmental, intellectual property and tax. This enables us to handle the numerous issues that can arise in a single corporate transaction. We have an exceptional track record in every sector and particular strengths in highly regulated industries.
Allen & Overy is a truly global adviser and we boast an enviable geographic footprint. Our corporate team spans all of our offices and works seamlessly with a global community of relationship law firms giving us access to a further 118 countries. This platform provides our clients with the confidence that they will receive the highest quality advice in both their domestic markets and as they expand into new territories.
Cross-border work is where we excel and the majority of our transactions have a multi-jurisdictional focus. Strong teamwork and efficient working practices and uniform approaches enable us to manage cross-border deals effectively and seamlessly.
At a time of huge change in the legal industry, we are determined to continue leading the market as we have throughout our 83-year history.
We'll do that by staying one step ahead and by constantly challenging ourselves to bring new and original ways of thinking to the most complex legal challenges our clients face.
Over the past year we have worked with some of the world's most sophisticated businesses on market-leading transactions that have changed their industries. This includes, advising on the largest oil refinery project in Vietnam (Nghi Son) and the joint venture between H.C. Starck and Vietnam's largest private sector company, Masan Group; the ground-breaking creation of Abu Dhabi's first Financial Free Zone, the Abu Dhabi Global Market; and representing Novartis in its successful patent battle with MedImmune over Novartis's blockbuster drug Lucentis – to name just a few achievements.
We are able to build on the foundations of our long heritage to attract the most talented people and develop the high-performance culture necessary to innovate and change the face of business.
Our commitment to help our clients deliver their global strategies has seen us build a truly global network now spanning 46 offices in 32 countries. We have also developed strong ties with relationship law firms in more than 100 countries where we do not have a presence.
This network has allowed us to become one of the largest and most connected law firms in our peer group with a global reach and local depth that is simply unrivalled.
So when we talk about global coverage, we're not just talking about having offices in some important cities around the world. We mean being able to combine our international resources and sector expertise to work on cross-border transactions directly in the markets and regions important to our clients.
"Managing partner of the Doha office Samer Eido is hugely respected for his banking and finance work. Clients value his experience of the Qatar market and say he is "very practical, pragmatic and goal-oriented."