Randolph H. Lickey
USA: Virginia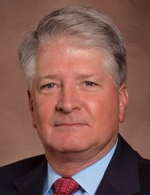 Williams Mullen
200 South 10th Street
Suite 1600
Richmond, VA 23219
Tel: 804.420.6424
Fax: 804.420.6507
Email: rlickey@williamsmullen.com
Web: www.williamsmullen.com
Focused on providing practical advice that makes sound business sense, Randy Lickey serves as an outside general business counsel and advisor to privately-held middle market companies in the U.S. and to U.S. subsidiaries of foreign-parent companies.
Randy is the former chair of the Corporate Section at Williams Mullen and continues to serve as a vice chair of that section. His practice includes representing and advising business clients on corporate, business, and transactional matters, including organizational and structuring issues, corporate governance, commercial contracts, mergers and acquisitions, reorganizations, recapitalizations, and other complex business transactions. Randy also assists clients in complex ventures and transactions involving partnerships, limited liability companies, and joint ventures.
Having knowledge of both the business and tax aspects pertaining to such ventures, he is able to assist clients in finding solutions in order to overcome issues and achieve their desired business goals and objectives.
Privately held companies across a number of industries count on Randy's knowledge and experience, including manufacturers, distributors, logistics companies, and service providers. Among the clients with whom he has regularly worked are auto dealerships; distributors of motor fuels and other petroleum products; food manufacturers; home furnishings manufacturers; and transportation companies.
As outside general counsel, Randy helps clients evaluate and manage their legal risks and compliance issues. He also joins with clients' executive management teams in evaluating and implementing strategic plans, including assisting with strategic acquisitions and divestitures.
An important aspect of Randy's work with each client is a commitment to understanding the client's business. He wants to know what is important to each client, what makes them grow, and how he can best help them in achieving their business goals, as well as in addressing the legal and regulatory issues they may confront. Foremost in his client relationships is building a strong atmosphere of trust, so that clients know they can count on Randy and Williams Mullen. If Randy can't provide the answer or solution, he is committed to finding someone who can.
Williams Mullen provides comprehensive legal services and innovative solutions to regional, national and international business clients. Our clients range from multinational Fortune 500 companies to family-owned private businesses. We have extensive experience with North Carolina Business & Corporate law and Virginia Corporate Law. As advisors and counselors, we offer clients diverse legal services focused on responsive and efficient problem solving.
We know our clients' industries, which gives us a unique perspective in solving their business challenges. Our client base reflects the principal industries of corporate America, including banking and financial services, insurance, manufacturing, retail, computer software and technology, information technology, energy, investment banking, real estate, construction, health care, media and communications, transportation, food and beverage, franchises and utilities.
We pride ourselves on our ability to get deals done and to help clients sensibly manage legal and business risks. Working as a team enables us to effectively draw upon Williams Mullen resources in specialty areas when needed. Our goal is to provide timely, effective services as efficiently as possible.
Williams Mullen is a regionally based, full-service law firm with more than 230 attorneys in offices across North Carolina, South Carolina, Virginia and Washington D.C. Since our firm began in 1909, our goal has been to provide business and legal solutions to help our clients' businesses thrive.
While we excel within our mid-Atlantic footprint, our clients find that they increasingly come to us for their legal needs across the United States and internationally. They tell us they appreciate our Am Law 200 big firm capabilities and experience without the big firm rates.
Our clients have peace of mind knowing we are responsive and act with a sense of urgency in today's fast-moving business environment. We are committed to being clear, concise and transparent in our communications. We believe in being fair in the delivery of our services from pricing to scope of work to billing practices. And lastly, we make sure that we bring a team together that is excited to understand you and your business. This is our pledge to all clients.
At Williams Mullen, we don't have offices located around the world, but we proudly offer the same quality of work that, combined with consistently excellent client service, creates a better value for our clients.
"Excellent practice well versed in M&A, corporate restructurings and recapitalizations, buyouts and spinoffs, among other areas. Enjoys a fine track record for its work with a number of Virginia's leading publicly traded companies and demonstrates notable strength in the healthcare and retail sectors."