Rahul Matthan
India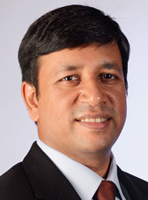 Trilegal
The Residency, 7th Floor
133/1, Residency Road
Karnataka, Bangalore, 560025
Tel: +91 80 4343 4600
Fax: +91 80 4343 4699
Email: rahul.matthan@trilegal.com
Web: www.trilegal.com
Rahul Matthan heads the TMT practice group of the firm. He also serves on the firm's management committee.
Rahul has advised on some of the largest TMT transactions in the country. He lead the team that was advising Vodafone on its acquisition of a controlling stake in Hutchison Essar and worked on the transaction that saw Telenor acquire a significant majority stake in Unitech Wireless. He has worked with companies across all sectors of the industry from big telecom operators, to ISPs, OSPs and managed data service providers and advised on matters ranging from regulatory matters to ongoing business issues relating to the rollout of operations.
Rahul has also advised on a range of sectors in the technology space including in relation to data protection, outsourcing, electronic commerce, new media, entertainment, biotechnology, pharma, and other new technologies. He has advised on new content delivery models for mobile value added services, regulatory issues surrounding the delivery of electronic content and legal and contractual issues in global e-commerce.
He has also been involved in a number of policy initiatives in the TMT space including, most recently, assisting the government in preparing the country's privacy law.
Trilegal is widely recognized as having a market leading corporate practice, bringing together more than a hundred lawyers across offices.
Our corporate lawyers have the reputation of getting to the heart of complex issues, providing strategic inputs and structuring transactions innovatively to minimise execution risk. We have substantial experience in complex, multi-jurisdictional, inbound and outbound mergers and acquisitions, private equity transactions, as well as a deep understanding of regulatory issues in corporate law.
We offer a full range legal services across a broad spectrum of practice areas that includes Corporate, Mergers and Acquisitions, Financial Services, TMT, Energy and Infrastructure, Disputes, Competition, Capital Markets, Employment, Real Estate and Tax.
"Rahul Matthan is well known for handling corporate and commercial work in the telecoms and technology sector, including advising Telenor on its joint venture with Telewings. Sources confirm that he has "a good name" in this sp"