Pervez Akhtar
United Arab Emirates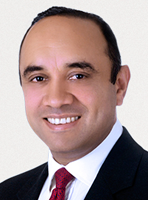 Freshfields Bruckhaus Deringer LLP
Al Fattan Currency Tower, 20th Floor
Dubai International Financial Centre
Sheikh Zayed Road, PO Box 506 569, Dubai
Tel: +971 4 5099 191
Fax: +971 4 5099 111
Email: pervez.akhtar@freshfields.com
Web: www.freshfields.com
Pervez specialises in advising regional and international private equity houses and corporates on their investments throughout the Middle East and Africa, South and Southeast Asia regions as well as sovereign wealth funds and government investment vehicles on transactions integral to their strategic investment and economic diversification programmes. With over 15 years' experience many of which have been in emerging markets his client work covers a broad range of sectors including financial services, energy & utilities, transport & logistics, consumer goods, education, healthcare, telecoms and media.
Pervez is personally ranked in the leading legal research directories for his work in relation to countries including the UAE, Turkey, Libya and Pakistan and he is also one our country partners for Qatar. Known as a calm and collected negotiator, clients turn to Pervez not only for his significant technical skills, but also his straightforward business advice that is readily understood by in-house counsel and commercial teams alike. He is pragmatic and approachable, and instinctively trusted by both clients and colleagues.

We want to be the law firm that clients turn to for help on the mandates that matter most to them, wherever in the world that may be.
To succeed, we must be widely recognised as standing apart from other firms because our people are exceptional and because we are international and integrated in the way we work, we add value in everything we do and we are uncompromisingly committed to our values.
Set out below is our statement of who we are. It embodies our ambition to be exceptional, our culture and our absolute determination that all of us will work with each other, our clients and our other stakeholders, day in day out, in the way we describe to ensure we achieve our long-term aim.
"Pervez Akhtar heads the practice and is a leading authority on private equity transactions, with detailed knowledge of many of the key Middle Eastern markets. He acts for a number of the region's most prominent corporate clients, as well as advising sovereign wealth funds."