Olumide Akpata
Nigeria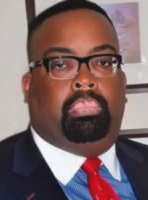 Templars
The Octagon (5th Floor), 13A, A. J. Marinho Drive
Victoria Island Annexe. P.O. Box 72252
Victoria Island, Lagos
Tel: +234 1 4611892
Fax: +234 1 2712810
Email: olu.akpata@templars-law.com
Web: www.templars-law.com
Olumide Akpata is a Partner in the Corporate and Commercial Practice Group of the Firm and he is currently the Head of that Group.
He is admitted to practice in Nigeria and has over two decades of experience in advising clients on various aspects of Nigerian Corporate and Commercial Law.
He has been recognised by IFLR 1000 as a leading Mergers & Acquisition lawyer in Nigeria and by Chambers and Partners "as having long experience in representing foreign clients" in his area of practice.
He regularly advises local and international corporations on the impact of Nigerian Law on their investments and/or operations in Nigeria particularly regarding: the establishment of local subsidiaries, corporate governance and compliance, mergers, acquisitions and corporate restructuring, labour and immigration, regulatory issues and tax.
Olu is often called upon to speak at local and international conferences and seminars and currently sits on the Council of the Nigeria Bar Association Section on Business Law. He is also the Vice-Chair (West-Africa) of the International Bar Association's Africa Regional Forum.
The Corporate and Commercial Practice Group represents a broad range of corporate and business interests.
The group delivers responsive, innovative and practical legal solutions in diverse areas including Corporate Finance, Capital Markets, (including unit trusts, real estate investment trusts, stock offerings, etc.), Tax, Mergers and Acquisitions, Corporate Governance and Compliance, Banking, Company Secretarial and Insurance.
Templars is a full service law firm with the know-­how to handle the legal needs of clients in Nigeria's peculiar business environment.
With offices in the cosmopolitan cities of Lagos, Port Harcourt, Abuja and Uyo, Templars is strategically placed to offer top quality legal services to our clients in the major economic hubs of the country.
The Templars ethos is predicated on our dedication to meeting the commercial objectives of our clients while providing qualitative legal services.
As a team, we assist our clients in analyzing the risks involved in their transactions; and we mitigate and hedge those risks by strategising different types of risk management tools.
"Olumide Akpata is praised by clients for his responsiveness. He has significant expertise in regulatory matters and recently assisted Falck Prime Atlantic with the restructuring of its subsidiaries to comply with the Nigerian Content Act. "