Olexander Martinenko
Ukraine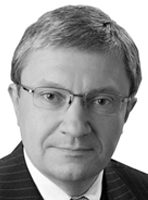 CMS Cameron McKenna LLC
6th Floor
38 Volodymyrska Street
01030 Kyiv, Ukraine
Tel: +380 44 391 33 77
Fax: +380 44 391 3388
Email: olexander.martinenko@cms-cmck.com
Web: www.cms-cmck.com
Olexander is Senior Partner and Head of the Commercial, Regulatory and Disputes Practice Group in the Kyiv office of CMS. His practice has broad experience advising multi-national and local companies, institutions and organisations on their business activities in Ukraine, on corporate and competition law, corporate restructuring and mergers and acquisitions in various sectors, including energy, technology, consumer products, pharmaceuticals and others.
Olexander has over 25 years' experience representing clients in the Ukrainian systems of general and commercial courts, up to and including the level of the Supreme Court of Ukraine and over 20 years' of experience representing clients in international commercial arbitration proceedings, both within and outside Ukraine (he was involved in more than a dozen international commercial arbitration proceedings). He is on lists of recommended arbitrators with International Arbitral Centre of the Austrian Federal Economic Chamber, Singapore International Arbitration Centre, Hong Kong International Arbitration Centre and South China International Economic, Trade Arbitration Commission/Shenzhen Court of International Arbitration and Kuala Lumpur Regional Centre for Arbitration.
Olexander is constantly recognised as a Band 1 lawyer in Corporate/Commercial by Chambers Europe 2008-2014 and as a leading specialist in Corporate and M&A by PLC Which Lawyer?, as well as recommended in Competition/Antitrust and Dispute Resolution by the same directory and by Legal 500, 2013-2014. Olexander is also ranked as the top lawyer in the area of IT & Communications by the Ukrainian Law Firms 2013-2014, receiving "strong market feedback for his universal experience". Chambers Europe 2014 says: "Olexander Martinenko has a "fantastic depth of knowledge". He is one of the most experienced lawyers in the market".
We are a leading Corporate team with an established track record and a wealth of experience. Our corporate specialists have a long track record in mergers & acquisitions, private equity and equity capital markets. We put our clients first. We are service-driven and relationship-focused. We strive to develop long-term relationships with our clients, always giving prompt, straightforward and commercial legal advice.
We advise on all aspects of corporate law and transactions.
Our corporate lawyers provide advice across all types of commercial law; banking and finance, competition, corporate and M&A, dispute resolution, employment & pensions, environment, intellectual property, private equity, public procurement, real estate and tax.
With our focus on client service, we were one of the first corporate law firms to embrace the need to also structure our business along industry sector group lines. We have eight industry sector groups; consumer products, energy, hotels & leisure, infrastructure & project finance, insurance and funds, lifesciences, real estate & construction and technology, media & communications.
Our practice and sector group matrix enables us to develop a comprehensive understanding of our clients' businesses and markets and to constantly deliver sound and commercially relevant advice from any of our offices. We focus on relationships, not deals, and we are considered more approachable and accessible than many of our competitors. Our clients tell us they like working with us and that we're often seen as the human face of the law.
As a major commercial law firm, we have responsibilities that extend beyond our client work. We are transparent about our approach to environmental management and we are proud of our community schemes across all of our offices.
"Senior partner Olexander Martinenko heads the firm's commercial, regulatory and disputes teams. His broad practice encompasses M&A, restructuring and competition matters."