Malin Leffler
Sweden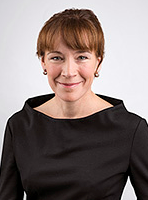 Roschier
Blasieholmsgatan 4 A
Stockholm
Sweden
Tel: +46 8 553 190 58
Fax: +46 8 553 190 01
Email: malin.leffler@roschier.com
Web: www.roschier.com
Malin Leffler heads Roschier's Private M&A practice in Sweden. She is specialized in complex cross-border M&A transactions and private equity. Malin has extensive experience in leading negotiations and projects for major domestic and international private equity sponsors and corporate investors.
In addition to the above, Malin is also specialized in fund structuring and representing sponsors and institutional investors in connection with fundraisings as well as investments in private equity funds.
Malin is ranked Band 1 within private equity by Chambers Europe and Corporate/M&A by Chambers Global. She is also recognized as one of the leading experts in Sweden in corporate/M&A and private funds by international publications such as Chambers Europe, The Legal 500, IFLR1000 and Who's Who Legal. Clients praise Ms. Leffler for her "business-minded, methodical and thoughtful approach" (Chambers Global, 2014). According to clients she is "a well-rounded individual who is both commercial and diligent, and comes back with imaginative and constructive solutions" (Chambers Global, 2015). In 2013 Malin Leffler was voted "Årets Affärsjurist" (Lawyer of the Year) by clients participating in Blendow Group's annual Klientbarometern market survey in Sweden. She is also listed as the only female lawyer within M&A in Sweden in the 2013 edition of Women in Business Law Expert Guide published by Legal Media Group.
Roschier's Corporate Advisory practice consists of some of the most skilled and sought-after corporate lawyers in the Nordic region. The integrated cross-border team has vast experience in advising boards and management of large Finnish and Swedish listed companies on dealing with complicated corporate matters. The team includes the authors of the Finnish Companies Act and of several doctoral theses in Swedish and Finnish company law. Their proven ability to solve the most complex corporate issues has made the team members trusted advisors to several of the largest public and private companies in the Nordic region in relation to corporate governance, risk management, board liability and other matters such as contractual and preventive risk counseling.
Roschier provides a full range of services to blue-chip Nordic and multinational clients across the region. Much of its work is focused on high-end corporate advisory services and M&A, including public M&A and private equity, and banking and finance. The firm also focuses on resolving the inevitable disputes that arise in these areas.
Additionally, the firm offers the range of advice you would expect of a leading international law firm, from EU & competition law to employment, from real estate to restructuring. It has a particularly strong reputation in the high-tech sectors, with intellectual property and ICT high on its list of priorities.
Roschier's geographical footprint is another thing that makes it stand out. The Nordic countries have become a significant arena for an ever-increasing number of companies. Since the early 1990s, the region has seen countless cross-border mergers, acquisitions and off-shoring projects. Today, the area is crowded with exciting businesses that are distinctly Nordic in scope.
The continuing success of Roschier's Stockholm office is a clear indicator of an increasing need for cross-border expertise. The majority of Roschier's lawyers spend a significant part of their time working on cross-border cases.
The firm's practice groups are highly integrated, so they can draw on resources from several locations and put together cross-border 'dream teams' to handle each assignment. The firm is carefully organized to get the most out of its cross-border capabilities.
This combination of expertise means that Roschier is continuously involved in the region's most demanding assignments and consistently ranked among the top firms in both Finland and Sweden.
"Head of private M&A Malin Leffler receives effusive praise for her transactional practice. "She is a well-rounded individual who is both commercial and diligent, and comes back with imaginative and constructive solutions," reports one impressed source"