Gino A. Maurelli
USA: Colorado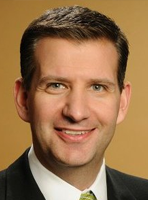 Brownstein Hyatt Farber Schreck, LLP
410 Seventeenth Street
Denver, Colorado 80202-4432
United States
Tel: 303.223.1115
Fax: 303.223.1111
Email: gmaurelli@bhfs.com
Web: www.bhfs.com
Gino is co-chair of Brownstein Hyatt Farber Schreck's Corporate & Business Department.
Gino is a corporate finance attorney who specializes in middle market M&A/Private Equity transactions. Gino has acted as lead partner or primary transaction attorney on middle market or lower middle market transactions with aggregate transaction value in excess of $5 billion. He makes it a point to understand his client's top priorities in these transactions and, as a strategic partner, provides legal guidance grounded in business realities. Gino has advised clients and completed transactions in a variety of industries, with significant experience with consumer products, software and technology, healthcare, cable and telecommunications, financial services and manufacturing operation. Prior to joining Brownstein, Gino was a partner at Holme Roberts & Owen LLP.
From acquisitive strategic buyers, leverage buyout shops, fundless sponsors and family offices, Gino has represented a wide array of acquirers on the buy-side with varied transaction drivers. Gino's sell-side practice involves representing owner/entrepreneurs in their liquidity events, companies in strategic business combinations and private equity firms in the disposition of portfolio companies. In addition to M&A transactions, Gino assists a number of portfolio companies with a variety of corporate matters including joint ventures, debt facilities, equity issuances, labor and employment matters, equity incentive arrangements and intellectual property matters.
Constant involvement in the marketplace. We know that successful transactions require agility, knowledge, relationships, and the broad market and in-depth legal knowledge that one can only gain by high deal flow. We take the time to learn about your investment strategy, business challenges and future goals. We strive to identify potential issues to help you navigate the smoothest road to success. It's a true partnership that is dedicated to all facets of your business development.
Our various Corporate & Business practice groups collaborate with each other and with other practices within the firm to offer you a robust suite of legal services. From the seasoned policy advisors in our Government Affairs practice to the effectiveness of our Litigation groups, Brownstein Hyatt Farber Schreck is always there when it matters. We are redefining presence. We are redefining access. We are redefining service.

Brownstein is a unique law firm. Walk into any of our offices and you'll immediately recognize a different type of energy. Complacency doesn't have a place here. Flexibility and inspiration do. Our culture and enthusiasm allow our attorneys, policy consultants and legal staff to stay ahead of our clients' needs and provide them with the resources they require to meet their business objectives.
It's a contagious energy here. We attract the top professionals from around the country because few places provide better opportunities to work at such a high level on such meaningful projects. The attorneys, policy consultants and staff here consistently find themselves ranked among the nation's best and brightest. In law. In politics. And in business. We pass on those skills—and our contagious energy—to our clients, applying all our multi-disciplinary resources to their success.
You'll see us involved in some of the biggest cases and most significant deals around the country, as well as the most important legislation affecting business in America. But you'll also see us deeply committed to the communities in which we practice. We donate both our energy and our financial commitment to much-needed charitable causes, pro bono legal cases, community organizations and industry associations. Bettering our world from the inside out—it's the very core of who we are.
When the stakes are high and conventional solutions are not enough. When your reputation, business or industry is on the line. Our deep experience, multi-disciplinary approach and political connections deliver results. Because today, successful outcomes require more than just practicing law.

"No matter what, it feels like we are the first deal on his mind. I never hear about other deals or priorities. He takes a very collaborative approach and invests himself into each deal."