Enrique Bruchou
Argentina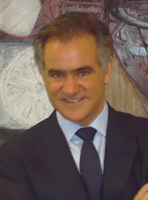 Bruchou, Fernández Madero & Lombardi
Ing Enrique Butty 275
Piso 12, Buenos Aires
Argentina
Tel: +54 11 4021-2319
Fax: +54 11 4021-2301
Email: enrique.bruchou@bfmyl.com
Web: www.bfmyl.com
Founder and Senior Partner of the firm, he is a frequent counsel of choice for the most complex and important corporate finance transactions involving Argentine parties or assets.
Since the establishment of his Firm in 1990, Mr. Bruchou has represented many investment banks and large corporations both in groundbreaking capital markets and mergers and acquisition transactions in Argentina. He participated in, among others, the acquisition of Banco Río de la Plata S.A. (at the time, the largest Argentine commercial bank) by Banco Santander of Spain (1997), the acquisition of the largest Argentine food company, Molinos Río de la Plata S.A. by the Perez Companc Family Group (1999), and acted as sole Argentine counsel to the Dealer Managers in the US$88 billion sovereign debt restructuring of the Republic of Argentina, the until then biggest financial restructuring in the history of the financial markets (2005). Additionally, since 2001, Mr. Bruchou is the permanent advisor to the Argentine Bank Association (ABA).
Mr. Bruchou received a law degree from the Argentine Catholic University in 1979 and an LLM degree from Harvard Law School in 1982. He practiced as foreign associate in Shearman & Sterling New York, for several years.
He has lectured on Corporate Finance and Capital Markets at seminars and has served for several years as member of the Board of the Harvard Club of Argentina.
Mr. Bruchou received several distinctions over the years such as "Star Individual" by Chambers & Partners -the world's leading guide of the legal profession- and "Law Firm Leader of the Year (Argentina)" by Latin Lawyer in 2011. Additionally, he has been ranked among the top three lawyers in Argentina by magazine Apertura -as far as legal rankings are concerned, Apertura is the most recognized magazine in Argentina
The Firm is recognized as having one of the most effective corporate departments and consistently ranks among the leading corporate practices in Argentina. Clients repeatedly choose the Firm when they need the highest quality skills and experience in large and complex matters. The Firm assists its clients with all types of business arrangements, including joint ventures, commercial contracts and shareholding matters.
The Firm provides its clients with comprehensive legal corporate services that help them complete sophisticated transactions in a rapidly changing competitive environment, both at home and abroad. In addition to the Firm's outstanding Argentine experience, the Firm also has a strong international focus. In this regard, the Firm's attorneys have substantial experience advising clients on international transactions, and are familiar with the political, economic and cultural complexities of negotiating and structuring cross-border acquisitions.
The Firm has advised its clients in many of the most significant corporate transactions, and has a long-standing history of representing a substantial number of the main local and foreign corporations.
BFM&L was founded in 1990 to provide legal advice to companies operating in an economy subject to rapid and dramatic structural changes, the effect of which was the transition from a paralyzed, state-controlled economy to an open, competitive one.
BFM&L is today a leading legal firm in Argentina. We are a full-service firm of international repute and an undisputed market leader, and provide complex, value-added legal advice to leading companies and financial institutions. We take pride in the role we have played in a large number of significant transactions both in Argentina and overseas, and in the ongoing interaction with our clients.
We also assist our clients regarding the legal aspects of their overseas investments directly and through our long-term relationships with prestigious law firms throughout the Americas, Europe and Asia. Additionally, we are member of AFFINITAS, a Latin American alliance of law firms with associate firms in Chile, Colombia, Mexico and Peru.
"Experienced and widely recognised founding partner Enrique Bruchou is highlighted by sources as an excellent lawyer with noted strength in the banking and finance arena."