Dr. Hani Sarie-Eldin
Egypt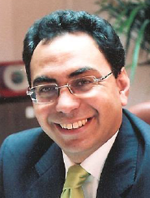 Sarie-Eldin & Partners
KM 28 Cairo/Alex Desert Road B19
Smart Village, 6th of October
Cairo, Egypt
Tel: (+202) 35352424
Fax: (+202) 3535 2425
Email: hsarie@sarieldin.com
Web: www.sarieldin.com
Dr. Sarie-Eldin has 27 years of local and international experience in Business Law, including Commercial Law, Capital Markets, Privatization, Corporate Finance, Project Finance, Corporate Restructures and Acquisitions. He advises on major transactions taking place in Egypt, and in the Middle East and North Africa region related to the above mentioned areas. Moreover, he was involved in drafting various vital Egyptian Laws and Regulations such as the Egyptian Banking Law, Concession Draft Law, Antitrust Law, Consumer Protection Law, Takeover Regulation, Mutual Fund & Private Equity Regulation, Price Manipulation & Insider Trading Regulation, and Corporate Governance rules for listed companies on the stock exchange, in addition to advising various governments in the region on legal reforms including the United Arab Emirates, Libya, and Sudan.
In his capacity as Chairman of the Egyptian Market Authority, Dr. Sarie-Eldin led the regulatory capital market reform process in Egypt. Dr. Sarie-Eldin also served as a member of the Board of Directors of the Central Bank of Egypt, and was a member of its monetary policy, and investment committees, and the Trustee Council of the General Authority of Investment and Free Zones. Dr. Sarie-Eldin was also appointed to the Board of Directors of the Bank of Alexandria from 2002-2005. This Board undertook the responsibility of restructuring and developing the bank, which eventually led to its privatization as the first privatized public bank in Egypt. Dr. Sarie-Eldin is currently a member of the Board of Directors of various Egyptian corporations and Banks. His wide practical experience is also supplemented by immense academic research. Dr Sarie-Eldin has attained an Excellency Academic Award for his research in legal sciences from Cairo University in 2002.

The ever-exciting and challenging corporate practice has raised special interest in the Firm. Since formation, the Firm was keen to engage seasoned counsels in the Corporate, Capital Markets, Mergers & Acquisitions and Private Equity disciplines. The Firm realizes that it should remain in a position where it could effortlessly relate to the business and objectives of our Clients.
We have advised a wide range of clients, local and international, on debt offerings, equity offerings, capital restructuring and privatization. Sarie-Eldin & Partners won the deal of the year for 2011 on the 576 Million USD Al Tawfeek Securitization for the Structured Finance category for the Middle East region from the Banker magazine.
Sarie-Eldin & Partners was established by Dr Hani Sarie-Eldin. The firm comprises highly-qualified professionals able to provide timely, effective legal services and advice. The firm specialises in business and commercial law, including capital markets, M&As, GDRs, derivatives, IPOs, private placements, banking, corporate finance, project finance, PPP projects, corporate restructuring, commercial agencies, real estate development projects, competition and information technology. Moreover, the firm has a strong litigation and arbitration department, in addition to a procedures and governmental relations department that carries out all relevant corporate and administrative matters for the firm's clients.
Although the firm was only established in August 2007, it enjoys a strong regional presence and a large local and international client base, including leading local corporations, regional and international financial institutions, transnational corporations, and governmental organisations. The firm was selected to represent prominent local, regional and international clients in major transactions that took place from August 2007 to date. Such transactions include strategic mergers and acquisitions, IPOs, private placements, banking, project finance, syndicated loans, real estate development projects, and concession agreements.
"Hani Sarie-Eldin is the firm's founder and chairman. He is recognised for his strategic acumen and wealth of experience, especially in capital markets matters and the financial services sector."