Anthony Zhao
China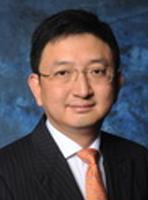 Zhong Lun Law Firm
10-11/F, Two IFC
8 Century Avenue
Shanghai 200120
Tel: +86 21 6061 3668
Fax: +86 21 5037 2678
Email: anthonyzhao@zhonglun.com
Web: www.chambersandpartners.com
Specialized in providing corporate, regulatory and transactional legal services in the areas of private equity/venture capital investments, mergers and acquisitions, capital markets, and corporate finance and restructuring, with particular expertise in advising on cross-border transactions which combine both offshore and onshore structures, renowned as "one of the more well-rounded lawyers in the PRC", for his "fantastic understanding of clients' commercial needs", "creative, concise and to-the-point style" and "proximity to the market and regulatory developments" (Chambers Asia Pacific Guide)
Specifically praised for his expertise in the areas of private equity and corporate /M&A, and being constantly ranked by Chambers Asia Pacific as a band 1 lawyer respectively – "He's excellent at structuring and thinks about all the issues that could arise in a situation with multiple levels of complication. If I only had one person to consult in China, it'd be Anthony." (Chambers Asia Pacific Guide)
Covering a broad range of industrial sectors in China, including telecommunications, media, technology and entertainment; education, healthcare and other specialized services; retails, logistics and distribution; energy, natural resources and infrastructure; consumer products and industrial manufacturing, and constantly ranked by Chambers Asia Pacific as a band 1 lawyer in the TMT sector – "New York and PRC-qualified Anthony Zhao is praised for being 'active, proficient and well connected', he is highly respected in the TMT community for his commitment to the market" (Chambers Asia Pacific Guide)
Zhong Lun Law Firm has a long history of assisting international companies of various sizes, as well as individual business owners in all phases of their China operations. Zhong Lun also represents domestic companies in transactions with their foreign counterparts. Our large pool of corporate attorneys possess the requisite experience and language capabilities, are strategically located in China's major commercial centers, and ensure that our clients receive timely and effective services. Our relationships with regulatory bodies at all levels of China's government hierarchy ensure that our clients receive practical advice in navigating the complex regulatory processes for direct investment and ongoing operational issues.
Founded in 1993, Zhong Lun is one of the largest law firms providing a complete spectrum of legal services in China. Zhong Lun, with over 200 partners and 900 professionals working in twelve offices in Beijing, Shanghai, Shenzhen, Guangzhou, Wuhan, Chengdu, Chongqing, Qingdao, Tokyo, Hong Kong, London and New York, is capable of providing our clients with high-quality legal services across a wide range of fields by virtue of appropriate specialization and close teamwork.
We are proud to serve a broad range of blue chip clients that include numerous Fortune 500 companies, banks and financial institutions as well as international organizations and government authorities. We strive to provide quality, efficient and practical legal advice on complex business transactions in China. Our outstanding work has achieved broad recognition. Our practices and lawyers are frequently cited and recommended in their respective markets by publications such as the Chambers Asia Guide, Asian Legal Business, Asia Law & Practice, International Financial Law Review and others.
Our success to date is attributable to our intellectual agility. By practicing at the highest levels of the legal profession in a culture that emphasizes collegiality, team work, respect for everyone, professional and business ethics, and duty to the profession and our communities, we attract and retain the best professionals to ensure the best outcomes for our clients. Most of our professionals have graduated from prestigious law schools in China and abroad. Many of them have practiced in leading international law firms. All of our partners are successful practitioners in their fields with extensive practice experience and in-depth knowledge of the clients' business.
As one of the most influential PRC law firms with deep roots in the political, legal and commercial circles of China, Zhong Lun maintains effective working relationships and communication channels with government and semi-governmental entities at various levels, as well as major industry players. Our lawyers have frequently been invited to advise and comment on legislation, and some are legal advisors to key government departments. This enables us to provide practical legal advice for clients.
In an ever-changing jurisdiction, Zhong Lun has gained a strong reputation for providing innovative legal solutions to meet the evolving needs of our clients. As early as in the first half of 1990s, Zhong Lun introduced a wholly new practice for Beijing's real estate transactions to help build confidence of overseas investors in China's real estate market. Zhong Lun also pioneered the research and development of China's securitization practice.
Zhong Lun is fully aware that all our success is built upon the supports of our clients. All our efforts are committed to the success of our clients.
"Anthony Zhao is frequently mentioned as a leading practitioner in the M&A space, with clients praising his diligent approach. One explains: "He is hands-on and knows exactly what you can and cannot do." He maintains a busy practice, frequently handling some of the most high-profile deals in the market."