Andreas Rötheli
Switzerland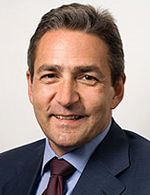 Lenz & Staehelin
Route de Chêne 30
CH-1211 Geneva 17
Switzerland
Tel: +41 58 450 70 00
Fax: +41 58 450 70 01
Email: andreas.roetheli@lenzstaehelin.com
Web: www.lenzstaehelin.com
Andreas Rötheli heads the corporate and M&A practice group of Lenz & Staehelin in Geneva. He regularly advises on international and domestic transactions, including private equity buy-outs and transactional real estate matters. Andreas is consistently recommended by many rating agencies in his practice Areas.
"When we're ready to make another acquisition in the Swiss market we will use Andreas Rötheli of Lenz & Staehelin" one client says. "Andreas Rötheli is first rate in all respects. He is a very broadly educated person beyond the law." (IFLR, Edition 2016). He has "an extraordinary capacity to anticipate problems and propose adequate strategies" (Legal 500, Edition 2015) and he and his team offer clients "extremely high quality in all areas: very fast response times, very comprehensive advice, creative ideas and unrivalled value for money" (Legal 500, Edition 2014). "He separates the wheat from the chaff in negotiations and is an excellent communicator – one of the few lawyers who can speak French, German and English very well. To put it in a nutshell: he gets it and gets his clients. He understands what I am trying to achieve rather than teaching me about Swiss law" (Chambers & Partners, Global Edition 2014).
Praised by Chambers for its "excellent track record acting on high-profile public takeovers and private equity transactions", Lenz & Staehelin enjoys a leading position in domestic and cross-border private and public M&A transactions, and has been party to many of Switzerland's most important corporate deals. Around 70 partners and associates form the country's strongest Corporate and M&A practice group.
In response to the complex requirements of domestic and international mergers and acquisitions and the many areas of law involved, this practice group brings together the knowledge, skills and experience of different practice areas to form focused, creative and hands-on teams for specific transactions.
In addition to advising on corporate law in general, the group also has ample experience in structuring complex cross-border and domestic M&A transactions and working with private equity investments. We also rank among the key players in the highly sophisticated field of public tender offers.
Besides advising on many of the major transforming deals in Switzerland, we regularly act as counsel on smaller transactions.

While Lenz & Staehelin is acknowledged by most as Switzerland's leading law firm, its connections and expertise span the globe. With over 200 lawyers, its ability to innovate and adapt to the ever-changing complexities of legal and regulatory environments in Switzerland and beyond, has attracted many of the world's top corporations as well as private individuals.
Continuity, stability and a pragmatic understanding of the big picture have all played a significant part in the firm's development and success – and in its ability to attract the best young talent. Swiss-orientated but globally attuned, Lenz & Staehelin is rightly recognized in Switzerland and abroad as 'The world's Swiss law firm'.

"Geneva-based Andreas Rötheli is appreciated for his "pragmatic advice." He covers both domestic and international transactions and is particularly adept at handling real estate transactions and private equity buyouts. "