Álvaro López-Jorrín Hernández
Spain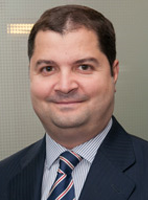 Garrigues
Hermosilla, 3
Madrid
Spain
Tel: +34 91 514 5200
Fax: +34 91 399 2408
Email: alvaro.lopez-jorrin@garrigues.com
Web: www.garrigues.com
Álvaro López-Jorrín has been joint partner in charge of the Garrigues Corporate/Commercial Law Department since July 2013.
He joined Arthur Andersen, Asesores Legales y Tributarios in September 1996, moving to J&A Garrigues as a result of the merger of two firms in 1997. He was made partner of J&A Garrigues in September 2006.
He is an expert in corporate law, mergers & acquisitions and other commercial restructuring processes at both private and listed companies (private equity transactions, tender offers, etc.), and particularly in relation to financial institutions. Notable recent engagements include his participation as an adviser to Iberia Líneas Aéreas de España in the process of its international merger with British Airways to create the leading worldwide airline International Airlines Group (at which he holds office as Secretary of the Board of Directors) and major restructuring transactions in the Spanish financial sector, such as the purchase of UNNIM Banc by BBVA.
He is also very active in stock market transactions and issues of both fixed-income and equity securities and financial instruments, having recently participated in the first issue of perpetual contingent convertible bonds in Spain by a financial institution (BBVA).
He also advises insurers and reinsurers on regulatory and contractual matters, having acted as adviser to many of the largest alliances in the bancassurance sector in Spain in recent years (such as the recent alliance between Banco Santander and insurance group AEGON).
Member of the Madrid Bar Association.

Garrigues' Corporate/Commercial Law Department is considered one of the most prestigious and widely acclaimed in the legal services industry. From its very beginnings, the Firm has played a pivotal role in the development of Spanish corporate/commercial law and has taken part in the Iberian market's largest and most technically complex deals.
The in-depth knowledge and expertise of its professionals enables Garrigues to provide advice across all corporate/commercial law-related areas: M&A, commercial contracts, corporate law, banking, finance, insurance, securities markets and other regulated sectors. The quality of Garrigues' services and its rapid response time have earned it the trust and loyalty of local and international clients alike.
The team of corporate/commercial experts constantly act in groundbreaking transactions and in negotiations of extraordinary technical difficulty, winning plaudits from the international legal community as well. Prestigious directories and specialist publications highlight the preeminence of Garrigues' corporate/commercial practice and its professionals in their annual rankings.
Garrigues is the Iberian Peninsula's leading tax and legal services firm in terms of professional headcount and billings. We know the industry inside out and provide value added to each and every one of our clients.
Our history dates back to 1941, when brothers Joaquín and Antonio Garrigues Díaz-Cañabate founded the law firm J&A Garrigues, which went on to amass enormous prestige in the second half of the 20th century. Following the merger with Arthur Andersen, Asesores Legales y Tributarios (ALT) in 1997, the Firm took its place among Europe's largest and most influential practices. In 2002, in the wake of the disappearance of the Andersen Worldwide network, Garrigues opted to continue as an independent concern and embarked on a new phase, marked by the business-first approach and global vision that have made the Firm the market leader.
At present, our team is made up of more than 2,000 people and offers advice the world over on the whole range of business law-related matters.
"department co-head Álvaro López-Jorrín ascends the rankings this year due to marked admiration from clients who praise his "exceptional knowledge in the area and great level of experience." He is further commended as "a committed lawyer who can see the interests of the business. He has a global vision and a great capacity for work."