Ahmad Fikiri Assegaf
Indonesia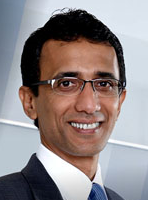 Assegaf Hamzah & Partner
Menara Rajawali 16th Floor
Kawasan Mega Kuningan
Jakarta 12950
Tel: +62 21 2555 7800
Fax: +62 21 2555 7899
Email: ahmad.assegaf@ahp.co.id
Web: www.ahp.co.id
Fikri commenced his legal practice in Indonesia in 1992, and in 1994 graduated from Cornell Law School (Ithaca, New York), having earlier attended the University of Indonesia. With his extensive knowledge, incisive insights and practical hands-on approach, he is widely recognized as one of the country's most talented and innovative lawyers in the banking and finance, M&A, corporate/debt restructuring, project finance and capital market arenas.
In his M&A practice, Fikri has acted as counsel to buyers and sellers alike in acquisitions involving public and private Indonesian companies operating in a wide range of sectors, including banking, petrochemicals, oil & gas, power generation, ICT, mining, and plantations.
A member of the Indonesian Bar Association (Peradi) and chairman of the Standards Committee of the Indonesian Association of Capital Market Legal Consultants, Fikri co-founded Assegaf Hamzah & Partners in 2001. He is also the chairman of the Peradi Legal Aid Center (Pusat Bantuan Hukum Peradi), a Peradi unit that coordinates mandatory pro bono work by advocates.
We are a full-service Indonesian law firm that was founded by Ahmad Fikri Assegaf and Chandra M. Hamzah in 2001. Since then, we have grown rapidly, gaining a reputation for innovation, commercial acumen, and for putting our clients at the forefront of all that we do. Currently with 15 partners and more than 55 associates, all of our members have extensive experience representing a wide variety of blue-chip corporate clients, high net worth individuals, government institutions and major public enterprises.
We are privileged to have represented a long list of prominent clients down the years, many of them leaders in their respective fields. Covering a broad spectrum of businesses and industries, they include companies in such key economic sectors as financial services, manufacturing, technology, energy, plantations, forestry and natural resources. The hallmarks of our success have always been our unique blend of commercial and legal insights, and our commitment to providing client-orientated services, apt and reliable legal advice, and rapid turnaround times.
We are ranked as a top-tier firm in many practice areas by The Asia Pacific Legal 500, Chambers Asia and other highly regarded legal publications, and over the years both our firm and partners have respectively been regularly recognized as 'leading firm' and 'leading individuals' in various fields.
As an Assegaf Hamzah client, you will gain access to our extensive expertise and experience spanning the entire range of practice areas, including capital markets, banking & finance, debt & corporate restructuring, mergers & acquisitions, projects & natural resources, competition law, dispute resolution, and telecommunications & media, to name but a few. You will also benefit from our capacity to work seamlessly across a wide range of industries and sectors so as to provide you with tailor-made, innovative, and holistic solutions that will help ensure the success of your transactions and business.

"Ahmad Fikri Assegaf is an acclaimed practitioner commended for his intelligence and good working relationship with major Indonesian conglomerates. He recently represented Chandra Asri Petrochemical in a USD435 million rubber plant joint venture."