Adam Signy
United Kingdom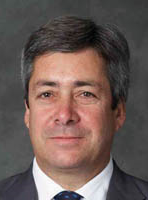 Simpson Thacher & Bartlett LLP
CityPoint
One Ropemaker Street
London, EC2Y 9HU
Tel: +44 20 7275 6130
Fax: +44 20 7275 6502
Email: asigny@stblaw.com
Web: www.stblaw.com
Adam Signy is a Partner in the Firm's London office. His practice focuses on mergers and acquisitions, particularly public company takeovers and private equity transactions, as well as equity capital markets. He has represented banks, private equity firms and corporate clients across a wide range of industries.
Recent experience includes advising Arle Capital Partners on the sale of the Capital Safety Group to Kohlberg Kravis Roberts & Co. (KKR); Melrose on the contested public offer for Charter International plc; Melrose on the tender offer for Elster Group SE and associated fundraising; KKR on the acquisition of Pets at Home and the acquisition of its interest in the Inaer Group; Blackstone Real Estate Partners on the acquisition of its interest in the Broadgate Estate; Expro International on the sale of its Connectors and Measurements division to Siemens AG; PPL Corporation on the acquisition of the UK Central Networks electricity distribution businesses from E. ON; Melrose on the disposals of its Dynacast, Truth and Crosby divisions and associated returns of capital to shareholders; Polymer Group, Inc on the public offer for Fiberweb plc; and Blackstone Capital Partners and CVC Capital Partners on the IPO of Merlin Entertainments.
Prior to joining Simpson Thacher in 2009, Adam was a partner at Clifford Chance for over 22 years, most recently as head of its London M&A group.

As leaders across all corporate disciplines, we regularly advise on a range of complex transactions, including mergers and acquisitions, equity and debt capital markets offerings, joint ventures, project financings and infrastructure development, structured financings, private fund formation and investments, syndicated loans, debt restructurings and bankruptcies, and privatizations.
The versatility of our practice areas greatly benefits clients—banks, companies, private equity firms, public utilities, nonprofits and individuals. We regularly advise clients such as Alibaba Group, Apax Partners, Bank of America Merrill Lynch, Blackstone, Carlyle, EQT, First Reserve, Goldman Sachs, HCA, Hellman & Friedman, Hilton, JPMorgan, KKR, Microsoft, the Republic of Peru, Seagate Technology, Silver Lake Partners, SiriusXM, Travelers and scores of others.
By assembling multidisciplinary teams, we counsel clients on increasingly intricate transactions with ingenuity and efficiency. Independent rankings attest to our unsurpassed leadership in the marketplace. We consistently rank at the top in both U.S. and global evaluations by publications such as Chambers, The Legal 500 and the International Financial Law Review.
Simpson Thacher is one of the world's most respected law firms. But for us, this has never simply been a matter of size or rankings. It's the direct result of our commitment to one founding principle.
Since 1884, many of the world's largest organizations have turned to us for smart solutions to critical commercial challenges. Today, more than 850 lawyers in 11 global offices put the collective experience of the Firm to work for every client we serve.
Our teams start with a deep understanding of our clients' business objectives. We share knowledge across practices and regions. We help our clients not only mitigate risk, but also discover opportunity.
"Adam Signy is a "quality performer," who has "fantastic experience" coupled with "great charisma and gravitas." He undertakes a significant amount of private equity work as well as advising corporates, and recently acted for Polymer Group in its purchase of Fiberweb."